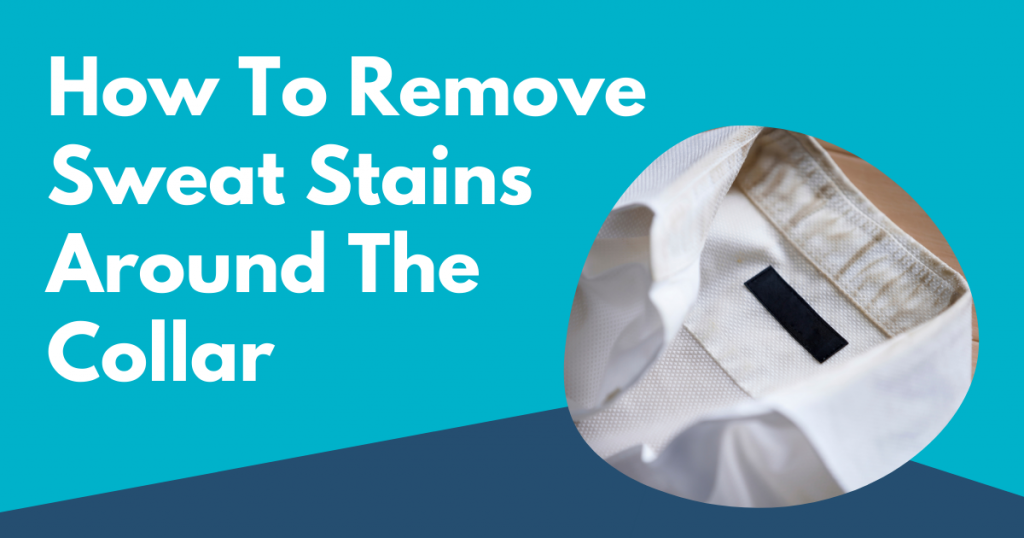 Even if you are the best-looking guy in the room, you can still attract negative attention if your dress shirt's got a ring around the collar. It doesn't matter even if you're wearing an expensive dress shirt. You may try covering that ring around your shirt's collar with your suit and tie. But that stain can still stick out a mile. What's annoying about it is that it stands out, especially if you're wearing light-colored or white shirts. And I hate to break it to you, but that collar stain of yours is a giveaway that you don't take good care of yourself.
A ring around the collar will never be fashionable. Now let's get that confidence of yours boosted up as we teach you how to remove collar stains and how you can avoid this type of stain in the future.
How To Remove Stains From Shirt Collar
As with other types of stains, stain removal for shirt collar needs immediate attention. You can get rid of a ring around the collar fast if you notice it early and take action right away. The next time you take off your dress shirt, try to inspect its collar. Look at both sides for any signs of collar stains.
Effective Items You Can Use to Remove Stains From Collar
Here are some items you can find at home that can you can use as collar stain removers:
Commercial Stain Remover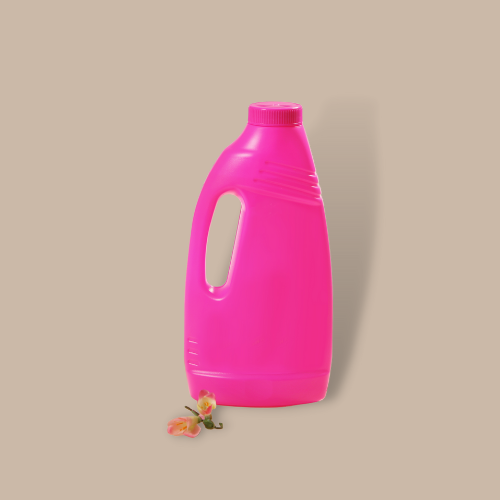 There are a variety of commercial stain removers available at stores. Pick one that suits your needs. You can pretreat the stain with stain remover before washing. Remember to follow the product's instructions carefully. Let the stain remover soak for around 20 minutes before you wash the clothes in the washing machine.
Dish Soap Paste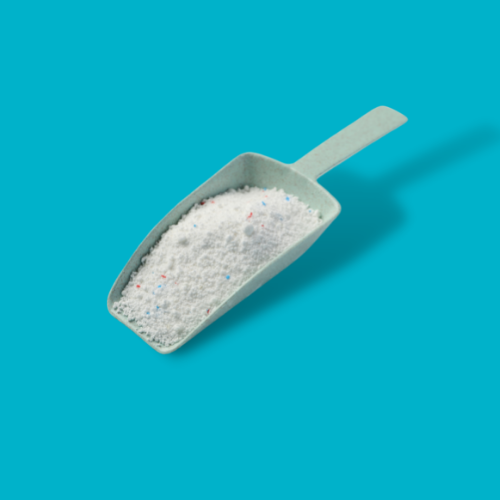 Mix powdered dish soap and water in a bowl to make a paste. Dishwashing detergent works well with lifting grease. Just what you need to remove one of the potential culprits of collar stains.
Using an old but clean toothbrush, scoop a bit of the mixture and gently rub it on the collar to lift the stain. Let it soak for around 20 minutes and rinse it thoroughly. When there's no more dish soap residue left, you are ready to wash the shirt in the washer.
Bar of Laundry Soap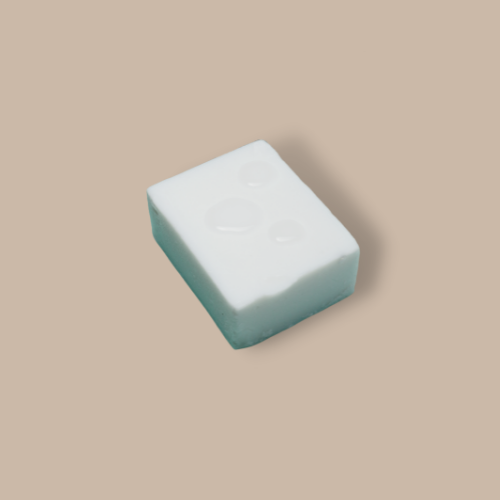 A good old bar of laundry soap is an excellent grease remover. You can rub the soap on the stain and use an old but clean toothbrush to remove the stain thoroughly. Let the soap soak for around 20 minutes before you wash the garment in the washing machine.
White Vinegar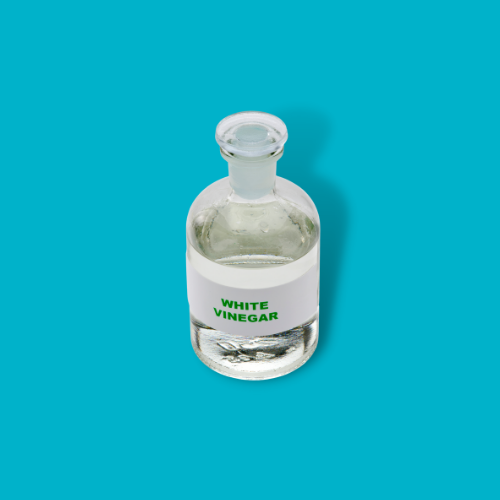 Don't you love white vinegar? It's not just a pantry staple but also an effective stain remover. It can even lift older collar stains.
To use as a soak for that nasty ring around the collar, pour white vinegar on a bowl and soak the dress shirt in it. You can let it soak for at least 15 minutes to an hour, depending on the stain. Rinse off the vinegar after soaking and wash the garment afterward.
Baking Soda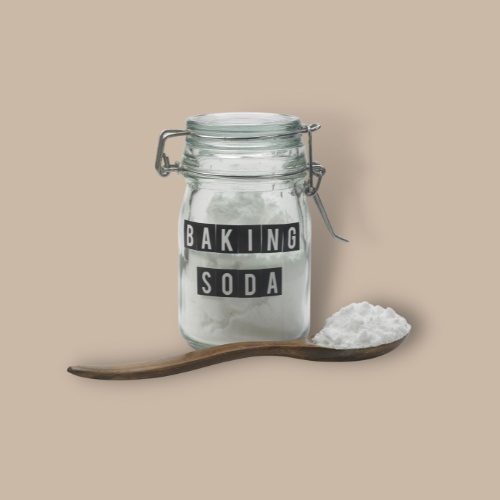 Got darker-colored dress shirts with a ring around the collar? I got good news for you! Baking soda is one of your safest bets in removing it. Baking soda is an alkaline solution that works well to remove acidic sweat stains.
Make a paste by combining four tablespoons of baking soda with 1/4 cup warm water. Run the stained part of the collar with warm water for a few minutes. Spread the baking soda paste on the stain. Scrub the collar with a toothbrush, or you can rub the fabric together to lift the stains. Wait for 30 minutes before rinsing the area. Wash the shirt in the washer after rinsing.
Hydrogen Peroxide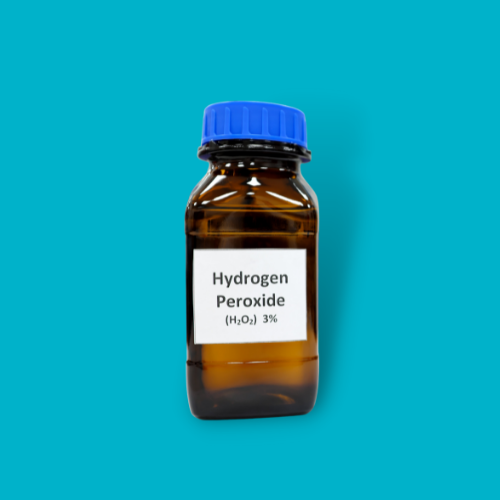 Hydrogen peroxide is not only an effective mild antiseptic. It also has bleaching properties. Hence, it can get rid of stains on your white shirt. Sometimes sweat can cause that ring around your collar. Hydrogen peroxide is one of the most effective stain removers for sweat stains. Hydrogen peroxide can oxidize protein and lipids found in sweat.
To use it as a collar stain remover, apply hydrogen peroxide onto the stain. You can then use an old toothbrush or laundry brush to scrub away the discoloration off the shirt. Let the fabric soak in hydrogen peroxide for around one hour. You can then wash your shirt as normal in the washing machine.
For Stubborn "Ring Around The Collar"
After picking your stain remover of choice, you can proceed to wash your stained shirts in the washing machine using laundry detergent. You can follow the guidelines below:
Use hot water in the washing machine to help lift those pesky stains and get rid of that ring around the collar.
Start the washing machine. If the settings allow it, pause it after ten minutes.
Wait for around 30 to 60 minutes before you resume the cycle. Let the detergent soak and do its work.
Skip the dryer if you are treating stains. The heat from the dryer is notorious for setting left-behind stains like "ring around the collar" on your dress shirts. Don't risk setting any unattractive stains permanently.
Ways to Prevent Yellow Stains Around The Collar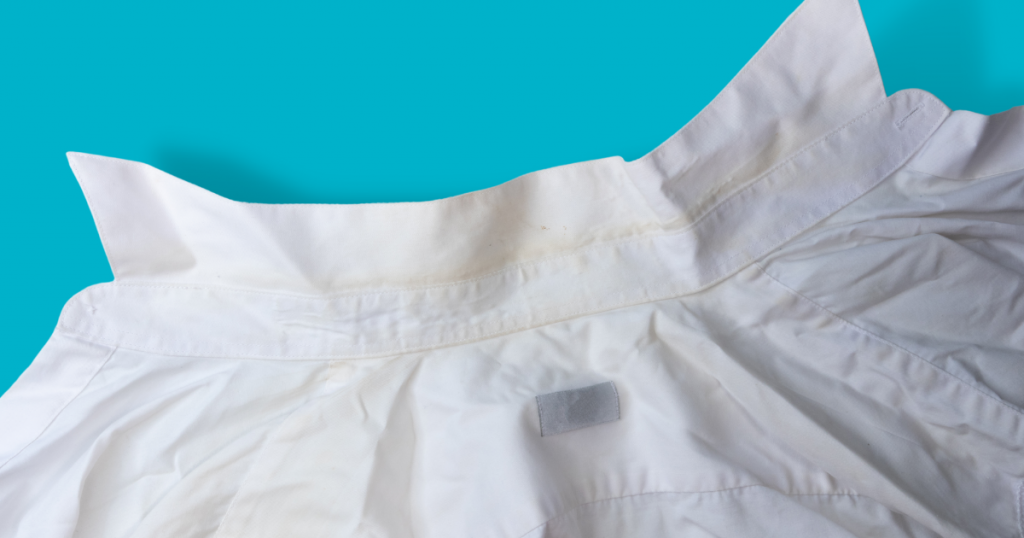 Like deodorant stains, collar stains are something that you can get whenever you sweat. You can also get it from the natural oils you produce, product build-up, or even your dead skin. You can't control sweating. If you observed that you get collar stains often, then you can level up your grooming with these tips to avoid collar stains:
1. It starts in the shower
Give your neck some love and attention. Thoroughly rinse your neck after applying and rinsing shampoo and conditioner. Run-off shower products can stick to your neck when you don't rinse them properly. It's also a good practice to scrub your skin at least once a week with a washcloth or loofah. Scrubbing removes any dead skin cells that may be lingering in your body.
2. Wipe your neck before you put on that dress shirt
If you take the time to style your hair using wax, gels, or other hair products after a shower, make sure that you wipe your neck before you throw on that dress shirt. Doing so will make sure that none of those styling products get on your neck.
3. Dust some powder on your neck
For added sweat protection, you may dab some baby powder around your neck. Spread the powder properly to absorb any excess sweat or oil before you wear your shirt. A light layer of baby powder on the sides of your neck and your nape can prevent marks caused by oil and sweat.
4. Make it a habit to wipe your neck
It's a good practice to wipe your neck throughout the day. Wiping makes sure that no excessive sweat gets trapped in your collar. For neck collar stain, sweat and oil prevention is always key.
In Conclusion
It doesn't matter how much you spend on your clothes. What matters is how you carry and take care of yourself. Don't let a ring around the collar be a reason for missed opportunities. Follow our tips on how you can get rid of collar stains and how to avoid them altogether. For tips and advice on cleaning and ironing, don't forget to bookmark our page and follow our social media pages!
Want to share this?