How To Remove Dog Period Stain From Washable Fabrics
January 24, 2023
Dealing with dog period stains on your washable fabrics can be a headache, but it doesn't have to be. In this guide, we'll provide you with step-by-step instructions on how to effectively and efficiently remove those unsightly marks, leaving your fabrics looking as good as new. Whether you're a dog owner or just a dog lover, this guide is for you. So don't let a little accident ruin your day, read on to learn the best methods for tackling those tough dog period stains.
COLOR
Red
APPEARANCE
A reddish or brownish colored stain on clothing, often with a liquid consistency when fresh.
WATER TEMP
Hot (120° to 140°F)
RATIONALE FOR WATER TEMP
Hot water helps to break down any bodily fluids and make it easier to remove.
The Science Behind Dog Period Stains
Dog blood stains can occur during a female dog's ovulation period. This is because the blood is coming from the dog's uterus and is a sign that the dog is able to reproduce. The reason the blood can stain clothing is because it contains pigments called hemoglobin, which gives blood its red color. When hemoglobin comes into contact with oxygen, it can become oxidized and change color, making it difficult to remove. Additionally, the blood can contain enzymes that can break down fabrics, making the stain harder to remove. Therefore, it is important to clean the stain as soon as possible before it sets in.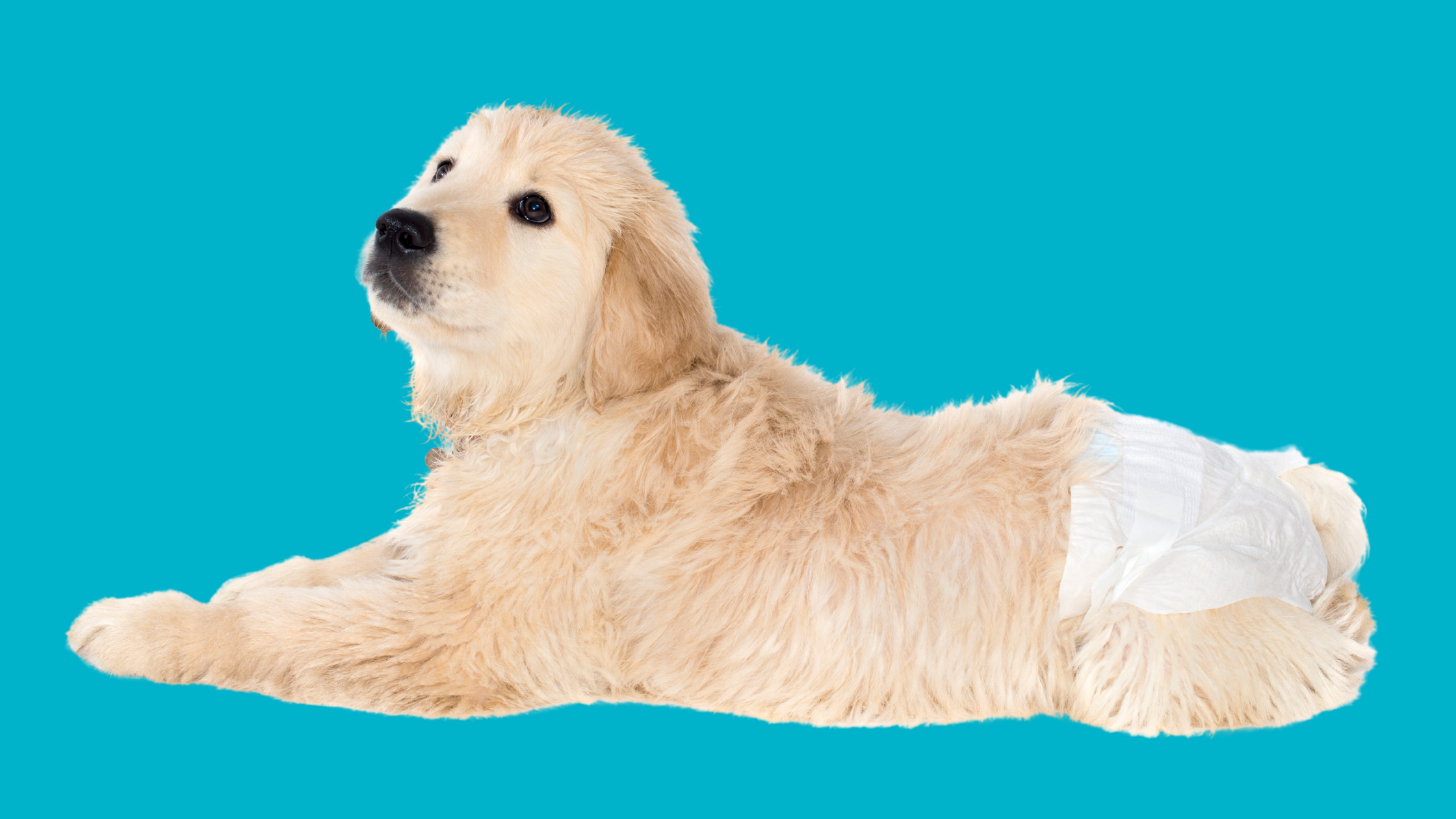 What You'll Need To Get Rid Of Dog Period Stains
Cold water
Laundry detergent or a stain remover specifically designed for blood stains
White vinegar or hydrogen peroxide
A clean cloth or sponge
Step By Step Process To Remove Dog Period Stains
Blot the stain with a clean cloth or sponge to remove as much of the blood as possible.
Rinse the affected area with cold water. Cold water helps to prevent the blood from setting into the fabric.
Apply a stain remover or laundry detergent specifically designed for blood stains, or a mixture of equal parts white vinegar and water, or hydrogen peroxide, directly onto the stain.
Gently rub the solution into the stain with a clean cloth or sponge.
Let the solution sit for about 10-15 minutes.
Rinse the area with cold water again and then launder the garment in the washing machine on the warmest water temperature recommended on the care label.
Inspect the garment before placing it in the dryer. If the stain is still visible, repeat steps 2-6 before drying the garment.
Please note that If the stain is not completely removed after the first treatment, it may be permanent. Also, when using hydrogen peroxide, be sure to test it on a small, inconspicuous area of the garment first to check for any discoloration or damage. And, always follow the
care label
instructions on the garment.
Dog blood stains on clothing can occur during ovulation period due to pigments called hemoglobin present in the blood which can oxidize and change color. To remove the stain, use cold water to rinse the stain, apply a stain remover or laundry detergent specifically designed for blood stains, gently rub the solution into the stain, let it sit for 10-15 minutes and launder the garment in warmest water temperature. Repeat the process if the stain is still visible before drying the garment.
Want to share this?