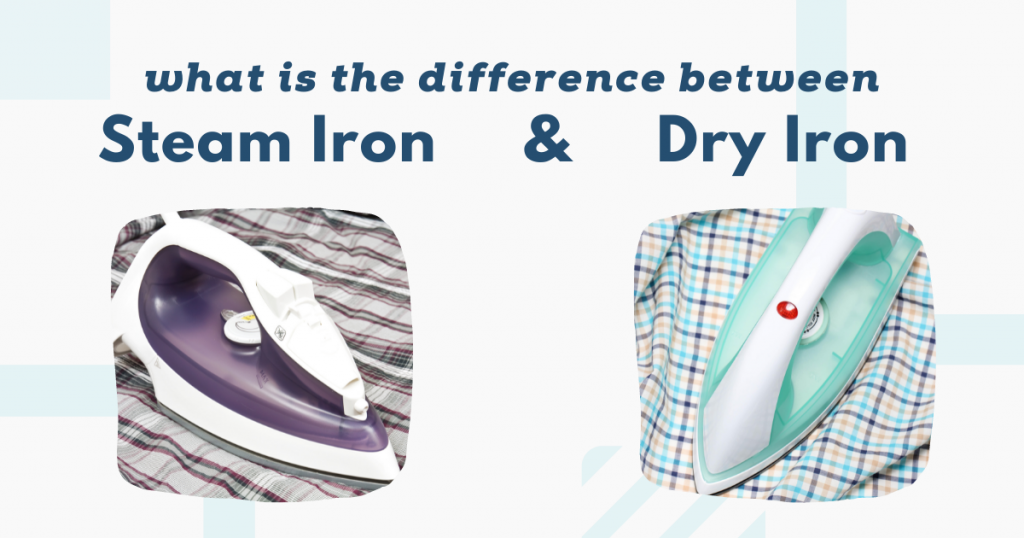 I was at Starbucks the other day, and I heard a girl in front of me asking for a "Grande, Quad, Nonfat, One-Pump, No-Whip, Mocha." If I were the barista, I would be like, "What? Quad, like four shots of espresso???" But since I am just a customer, my thought process was like: with all the items on the menu, you still managed to spout your own "secret menu," huh?
In his book, "The Paradox of Choice: Why More is Less," Barry Schwartz, Ph.D., argued how our wellbeing gets negatively affected by increased choices. The market is loaded with anxiety-inducing options. However, if you are like the lady customer in front of me at Starbucks, you may still feel that all the choices in the market don't meet your standards.
As we navigate through life, we face various life choices. Since you are browsing this article, I bet you are hunting for the best iron in the market. There is so much to choose from. However, the pretty basic question you need to answer is, do I need a steam iron, or could I get away with using a dry iron?
We've made this a lot easier for you here at TidyDiary! By the end of this article, you should be able to know the differences between dry iron vs. steam iron and determine which one suits your lifestyle better.
Dry Iron vs. Steam Iron
Upfront, dry irons have a solid soleplate that heats up. You can get smooth, crisp-looking clothes once you glide them on the fabric. On the other hand, steam irons' soleplates have steam holes or heat vents where the steam is released. Ironing using a steam iron is faster; however, it doesn't work on all fabric types.
For an in-depth yet easier comparison, we summarized the primary differences between the two types of iron in the table below.
| | DRY IRON | STEAM IRON |
| --- | --- | --- |
| Water tank | No water tank | With water tank |
| Soleplate | Solid soleplate,may or may not be coated with non-stick substance | Solid but with holes for steam to get out,usually covered with non-stick substance |
| Spraying mist | No spraying mist | With spraying mist |
| Features | Pretty basic | More complicated/With multiple options |
| Versatility | Can't function like a steam iron | Can function like a dry iron and as a steamer |
| Cleaning and Appliance care | Easier to clean and maintain | Can be harder to clean and maintain |
| Time-saving | Takes longer to iron clothes | Less ironing time is needed |
Soleplate
The soleplate is the ironing surface of a flat iron. Both dry irons and steam irons have solid soleplates. However, steam irons contain holes on them. This is where the steam is released. The steam released on steam irons makes ironing faster as it is easier to iron a damp fabric.
Spraying Mist
Dry irons don't contain a spraying mist. If you need to wet the surface to be ironed, you need a separate spray mist.
Steam irons have a built-in spraying mist. Spraying water on the fabric shortens the ironing time as the moisture reshapes the material and helps smooth out the creases.
Features
A dry iron is as basic as flat irons can get. It only contains a knob that adjusts the temperature. The steam iron, on the other hand, screams with nifty features.
From spraying jets to LED displays for temperature control, automatic-off features, and steam triggers, the steam iron sure is loaded with tech.
However, as with any gadget packed with tech and features, it can be a pain to get used to adjusting the settings all the time.
Versatility
The steam iron takes the cake for versatility as it can function as a dry iron or as a vertical steamer.
You can even use the steam iron as a vertical steamer. If you need to get rid of the wrinkles of a hanging garment, you can align the steam iron vertically and place it close to the fabric but not close enough to touch it. Then use the steam function to release steam.
Cleaning and Appliance Care
Since the dry iron has a straightforward function, cleaning and maintaining the unit are also reasonably easy. You can clean the soleplate of a dry iron effortlessly. Unlike steam irons, they don't have steam holes that can get clogged. Need tips and tricks to clean your steam iron? Click here!
Time-Saving
Because of its steam option, a steam iron gets the job done faster than a dry iron. It's easier to iron most fabrics, especially cotton when the fabric is damp.
When using a dry iron, repeated passes of the soleplate are needed to remove deep wrinkles. You may also need a spray bottle on hand to get the same effect as a steam iron.
Should You Buy a Dry Iron or Steam Iron?
This depends on how you would use it and how often you need to iron your clothes. If you only have a few clothes or don't need to iron regularly, you can opt for a dry iron. Moreover, you should also consider a dry iron if you have a lot of silk or satin clothes to iron as these fabrics are not a fan of steam or moisture.
If you need to iron your clothes frequently and you want to save time doing so, by all means, buy a steam iron. It will help you iron even a week's worth or a pile of clothes in no time compared to when you use a dry iron.
When To Steam Iron or Dry Iron
Not all clothes are created equal. So, when do you use steam iron or dry iron? Can you use either for any type of fabric?
Which Fabrics Are Suitable to Dry Ironing?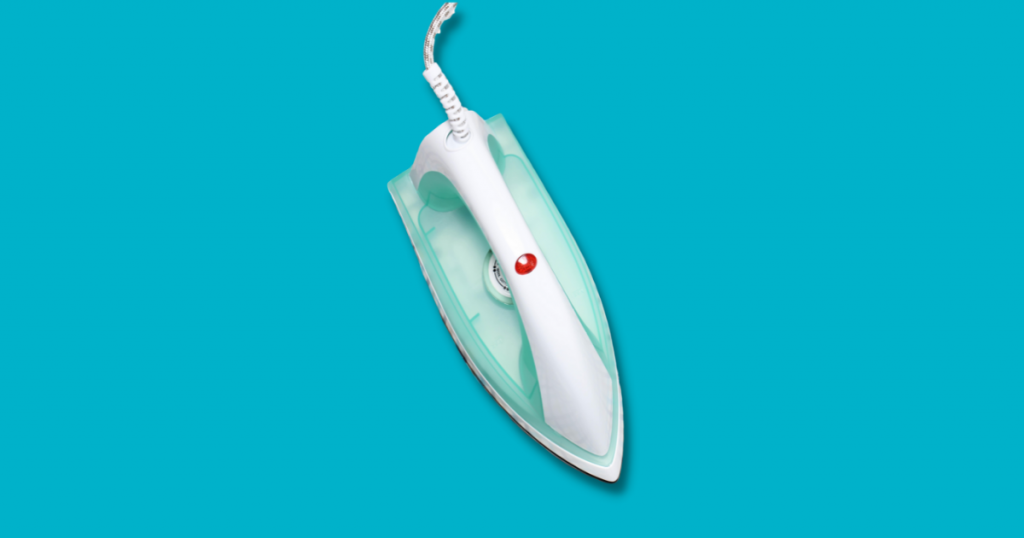 Although dry irons don't pack a punch when it comes to the latest technology, and it is pretty conventional, these oldies are a gem to use in most, if not all, types of fabrics. Yes, even the delicate ones like silk or satin! It's best to use a dry iron for the following materials:
Polyester
Wool (flannel or cashmere)
Silk
Satin
Rayon
Embroidery and lace
Acrylic
Acetate
Nylon
Which Fabrics Are Suitable to Steam Ironing?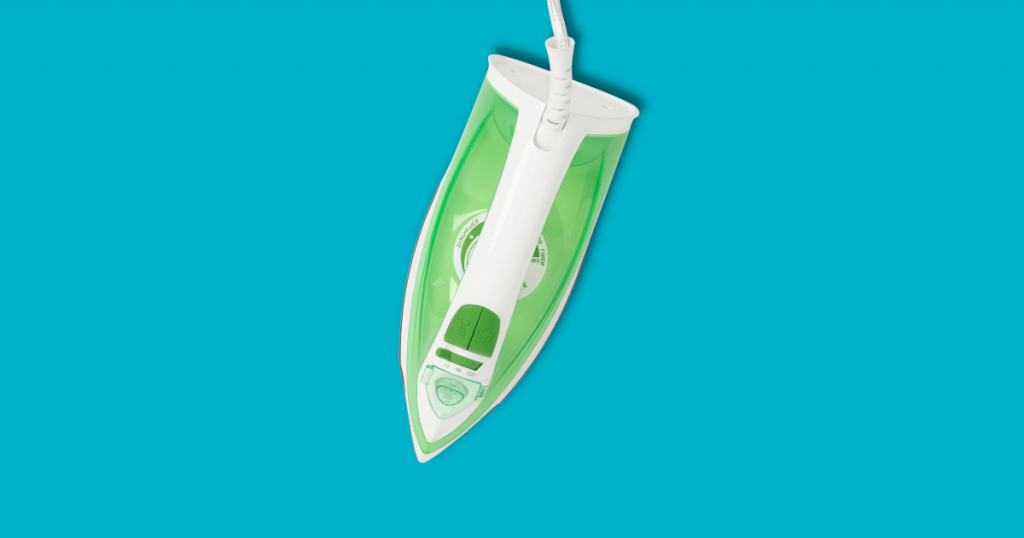 Steam irons are reliable when you need to iron and remove wrinkles from fabrics like:
Corduroy
Cotton
Linen
Velvet
Using a Steam Iron Like a Dry Iron
The steam iron is a popular iron of choice for a good reason. It promises and delivers quicker ironing time and more efficient results. Sure they can be a pain when sediments get stuck in the steam holes. However, they are a winner in terms of versatility and getting rid of wrinkles on clothes.
To use it as a dry iron, simply turn off the steam feature of your steam iron and keep the water tank empty.
FAQ
How do you dry a steam iron?

Before you store a steam iron after use, it's advisable to empty the water reservoir and dry the steam iron.

To do this, you need to unplug the iron and pour out the water from the water tank. The residual heat from the steam iron will help dry it out. Ensure that there is no water left in the steam iron before you store it, as the water may cause mineral deposits in the soleplate's steam holes. Store upright in a cool, dry place.
Does steam shrink your clothes?

It's a common misconception that steam can shrink clothes. They don't. It's not steaming that's caused shrinkage on the clothes. It's the prolonged exposure to high temperatures and heat.
What is the purpose of the steam in a steam iron?

It is easier to iron a damp piece of cloth instead of an arid one. This is because water enters and relaxes the fibers, and the heat from the iron presses and locks its position in place. The same concept applies when you use steam in a steam iron. The steam helps get rid of wrinkles faster compared to dry ironing.
What kind of water can you use in a steam iron?

If you want to keep your steam iron in top shape and avoid the messy build-up on the steam holes, you should use distilled water. Using tap water increases the chance of limescale build-up in the steam holes. Check our guide here on how you can take good care of your steam iron.
In Conclusion
Steam irons have taken the market by storm and for a good reason. They are pretty versatile as you can use them as a vertical steamer, or even as a dry iron. However, some may still feel hesitant, especially when they used it and saw some rusty marks where the iron glided. Remember that this will only be the case if you used poorly cared-for steam iron.
In general, a good steam iron is still the better option as you can fully customize the settings depending on the type of fabric you are about to iron. Not to mention of course, that the steam function is still its best feature.
Want to share this?